On the decadence of voice teaching
February 9, 2022
2022-02-15 19:08
On the decadence of voice teaching
On the decadence of voice teaching
But is it possible to trace a continuity in the history of voice teaching considering just 'old' singing?
Articolo scritto da Silvia Girotto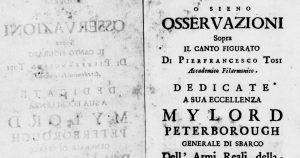 Maestri, Italy no longer hears the excellent voices of yesteryear! It was 1723 and the famous castrato singer Piefrancesco Tosi addressed the 'modern' voice teachers, criticizing their students because they did not follow with rigor the principles of the beautiful and 'ancient' Italian school. Not a good start, right? We surely know that the 'good old times' always leave the feeling that something very important has been lost along the way of teaching evolution and, in our case, we also add that the voice teacher (and his method) has always been an interesting subject of criticism.
The literature offers splendid treatises that document the passage of a vocal art as always in defect, a victim of a continuous deterioration; This is the reason why it is common knowledge that the singer always complains! But now let's take a look at what the 'ancient' have said of the 'modern':